Epson EH-LS12000B 4K Laser Projector (Price Valid Only when purchasing Sputnik4)
Impressive sharp display: 4K resolution (8.3mil pixels) and HDR10+ support
Smooth, fast-moving action: 4K Frame Interpolation and 4K Super Resolution
Long-lasting solution: Enjoy up to 10 years of entertainment thanks to laser light-source
Fully motorised optics: Powered zoom, focus and lens shift
Wide lens shift: Vertical ±96.3% and horizontal ±47.1%
Prepare to be amazed
The ultimate home cinema demands the best in projection. Bring a state-of-the-art cinema experience to your home with Epson's EH-LS12000B projector. Featuring revolutionary 3LCD laser projection technology, 4K resolution and HDR10+ support this high-definition projector delivers phenomenal image quality and colour brightness that elevates any screening to an enthralling cinematic experience. Every inch of this series has been considered — there's no wasted space and no exposed cables, leaving an elegant yet bold surface.






4K PRO UHD1
Experience 4K home theatre projection technology from Epson with proprietary dedicated processors for resolution enhancement, HDR, and image processing. Advanced pixel-shifting technology works in parallel with three individual high-definition LCD chips to produce an exceptionally sharp 4K picture achieving 8.3 million pixels and displaying a resolution of 3840 x 2160 on screen without sacrificing picture brightness
4K PRO-UHD1 home theatre projectors faithfully display all your favourite content from the classics to the latest blockbusters. This isn't just a new way to watch movies — it's the best way.
1 4K Resolution Enhancement Technology shifts each pixel to produce an image on screen, up to the stated specification.

3LCD technology
All Epson projectors are based on 3-chip LCD technology for amazing colour, incredible detail and solid reliability. 3LCD's 3-chip architecture dedicates an entire chip to process each primary colour – red, green and blue, continuously. Unlike single-chip technology that delivers colour sequentially, you get full-time colour. The result is vibrant, realistic images and video all delivered with 3LCD's true-to-life colour.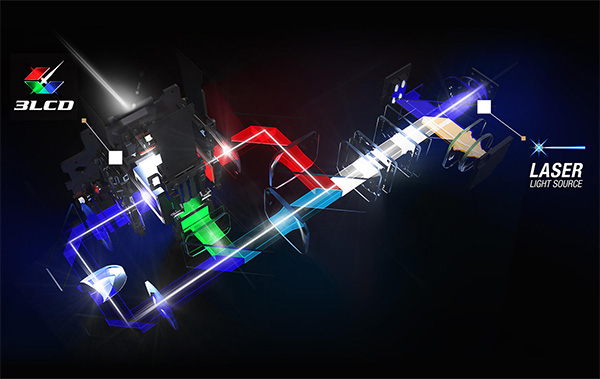 Up to 3x brighter colours with Epson projectors
Epson projectors use 3LCD engines that have no colour wheel with a white segment and therefore don't force a trade-off between white and colour brightness.
In fact, Epson projectors have up to 3x brighter colours than their leading competitive 1-chip DLP projectors. If you are looking for business and education projectors or 1080p home entertainment projectors, know that choosing Epson projectors means up to 3x brighter colours2.
All Epson projectors list both white brightness and colour brightness specifications, and all have high colour brightness.
2 Colour brightness (colour light output) in brightest mode, measured by a third-party lab in accordance with IDMS 15.4. colour brightness will vary depending on usage conditions. Top-selling Epson 3LCD projectors versus top-selling 1-chip DLP projectors based on NPD sales data for October 2019 through September 2020.
High image brightness
Impressive 2,700 lumens of colour and 2,700 lumens of white brightness for an exceptional picture in virtually any theatre environment – even in rooms with ambient light.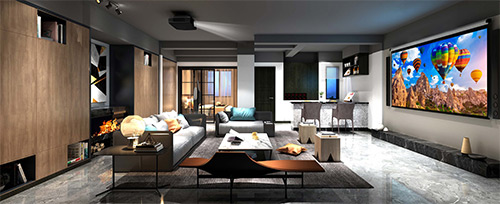 Laser light source
The EH-LS12000B is equipped with a uniquely designed laser optical engine, allowing for uncompromising brightness, contrast, colour and the highest image quality.
The laser engine's long lifespan of up to 20,000 hours provides virtually worry-free operation. And there's no waiting for the projector to warm-up or cool down – the projector reaches maximum brightness and turns off almost immediately.
4K enhancement processor
Epson has developed a new 4K image processor for the EH-LS12000B that when combined with the laser light source can achieve a better colour gradation and richer image.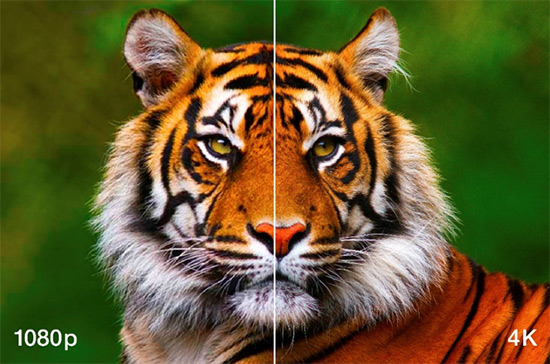 Dedicated HDR10+ processor
The EH-LS12000B supports HDR10+ which shows dynamic range in a frame-by-frame basis so that the subtle details between bright and dark details can be kept.
Epson's full 10-bit HDR colour processing accepts 100% of the HDR source information to faithfully reproduce HDR content for an exceptional visual performance.

Inorganic components
Epson's newly developed phosphor wheel is made of inorganic material with superior light and heat-resistance to deliver excellent reliability. We've also developed inorganic LCD panels – a key component of imaging devices. Combining an inorganic phosphor wheel with inorganic LCD panels in a laser projector results in bright, vibrant images for long periods.

Dedicated digital imaging processor
Real-time 32-bit analogue to digital video processing ensures smooth tonal transition, while eliminating banding, blocking and other compression artefacts from the final visual performance. The powerful processor in the EH-LS12000B faithfully reproduces the source material the way it was intended to be shown.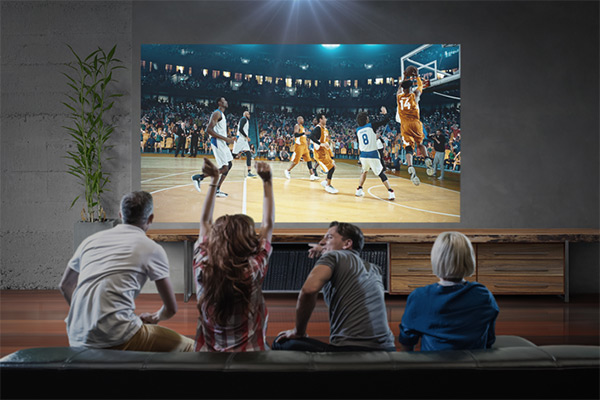 Deep black contrast ratio
Enjoy bright, vibrant pictures and excellent shadow detail of your favourite movies with 2,500,000:1 deep black contrast ratio on EH-LS12000B. Bring out mesmerising dark scenes of full high-definition images for a brilliant viewing experience.

Detail enhancement
Fine tune high definition images by turning on the detail enhancement feature which sharpens and refines images for lifelike clarity.
Flexible installation
Making installation simple, you can precisely shift the lens up to +/- 47% horizontally and up to +/- 96% vertically without any loss in picture distortion or clarity thanks to the EH-LS12000B's 3-axis motorised lens.
The EH-LS12000B has a front exhaust that enables the projector to be installed on a shelf at the back of the room and with a highly sealed optical unit, less light escapes, meaning you can be fully immersed in whatever you're watching.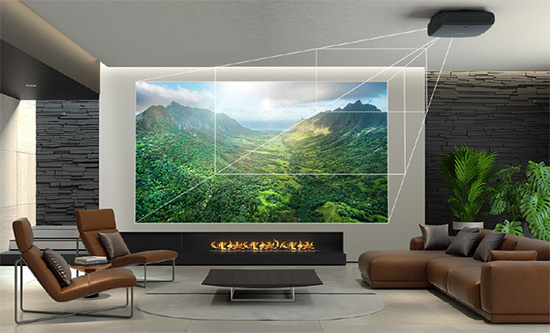 4K frame interpolation
The EH-LS12000B can generate intermediate frames to improve overall motion fluidity and sharpness. This results in a smooth 4K image with less blur.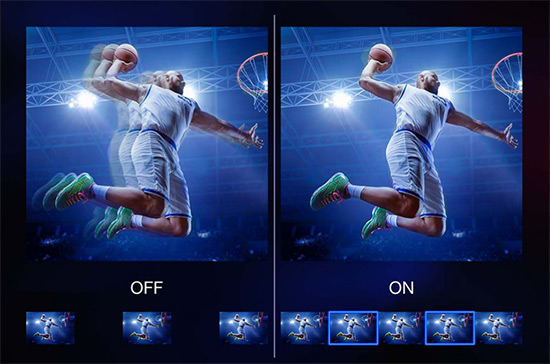 Scene adaptive gamma
Powered by the image processor, scene adaptive gamma allows the user to automatically adjust the picture quality based upon the scene information itself. This provides a simple way to get impressive colour and contrast, regardless of the content being displayed and provides a balanced and dynamic image with improved detail, especially in dark scenes.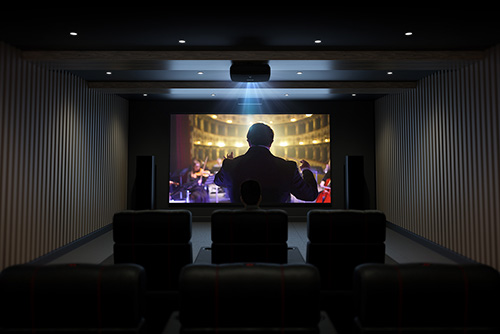 Cinematic lens
Designed for zero-light leakage, the EH-LS12000B Lens utilises a 15-element precision glass structure for outstanding image clarity and edge-to-edge focus uniformity.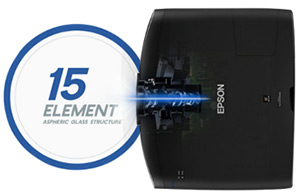 Gaming on the big screen
Gaming up to 4K at 120 frames per second, along with input lag times below 20 ms, allows for serious gamers to take full advantage of the latest generation of gaming consoles and higher-end gaming PCs.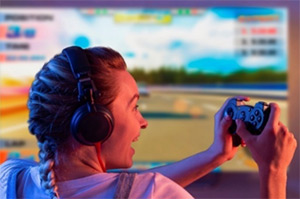 Stylish design
With the design inspired by a minimalist shape, charcoal black colour and carefully chosen fabric pattern, the trendy look and feel of the EH-LS12000B blends naturally into any home theatre environment.
Audio connectivity
Thanks to ARC, audio can be carried via the projector using an HDMI cable. In addition, eARC supports high-quality sound, allowing you to enjoy a cohesive mix of video and sound in an easier installation.

| | |
| --- | --- |
| TECHNOLOGY | |
| Projection System | 3LCD Technology, RGB liquid crystal shutter |
| LCD Panel | 0.74 inch with C2 Fine |
| IMAGE | |
| Colour Light Output | 2,700 Lumen In accordance with IDMS15.4 |
| White Light Output | 2,700 Lumen In accordance with ISO 21118:2020 |
| Resolution | 4K PRO-UHD, 16:9 |
| Contrast Ratio | 2,500,000 : 1 |
| Keystone Correction | Manual vertical: ± 30 °, Manual horizontal ± 30 ° |
| Colour Reproduction | Up to 1.07 billion colours |
| OPTICAL | |
| Throw Ratio | 1.35 – 2.84:1 |
| Zoom | Motorised, Factor: 1 – 2.1 |
| Lens Shift | Motorised – Vertical ± 96.3 %, horizontal ± 47.1 % |
| Lens position memory | 10 positions |
| Screen Size | 50 inches – 300 inches |
| Projection Distance Wide/Tele | 3 m – 6.4 m (100 inch screen) |
| Projection Lens Focal Length | 22.5 mm – 46.7 mm |
| Projection Lens Focus | Motorised |
| CONNECTIVITY | |
| Interfaces | USB 1.1 Type A (2x), USB 2.0 Type Mini-B, RS-232C, Ethernet interface (100 Base-TX / 10 Base-T), Trigger out, HDMI ARC, HDMI (HDCP 2.3) (2x) |
| ADVANCED FEATURES | |
| 3D | No |
| 2D | Colour Modes Dynamic, Natural, Cinema, Bright Cinema, Vivid |
| Other features | 4K enhancement, A/V mute, Digital zoom, Frame interpolation, Horizontal and vertical keystone correction, life, Quick Corner, Super resolution, ISF certification, Instant on/off, Lens position memory, Long light source |
| GENERAL | |
| Power consumption | 302 Watt, 198 Watt (economy), 0.4 Watt (standby) |
| Heat Dissipation | 1,026.8 BTU/hour (max) |
| OTHER | |
| Warranty* | 60 months Carry in or 12,000 h |
WHAT'S IN THE BOX
Main unit
Power cable
Remote control incl. batteries
User guide
Cable cover
OPTIONAL ACCESSORIES
Air Filter – ELPAF62 – EH-LS11/12000 (V13H134AB0)
Ceiling Mount (White) – ELPMB22 (V12H003B22)
Ceiling Mount (Low profile) – ELPMB30 (V12H526040)
Ceiling Pipe (450mm) – ELPFP13 (V12H003P13)
Ceiling Pipe (700mm) – ELPFP14 (V12H003P14)
Safety Wire – ELPWR01 (V12H003W01)
* Warranty offers are not available for all countries. Please speak to our staff regarding Epson's warranty.