Reproduce Details for Cinematic Senses with True 4K HDR.
Get ready for true 4K HDR with cinematic wonder like you're in an authentic digital cinema. For audio-video enthusiasts who want to take in every little detail for truly cinematic experiences, enjoy the super-wide colour space up to 100% DCI-P3 with film-like texture and playback as directors envisioned. BenQ W5700 4K HDR CinePrime Projector with CinematicColor™ technology ushers awe-inspiring movie magic into your tailored AV room.

Super-Wide 100% DCI-P3 Colour Rivalling Digital Cinemas
The motion picture industry's loftiest colour standards guarantee accurate reproduction of cinematic HDR colours across 4K UHD devices as filmmakers intended. Enhancing optimal colours for precise picture quality, BenQ CinematicColor™ technology achieves 100% of digital cinema industry's super-wide DCI-P3 colour space, which is 1.26 times of the Rec. 709 colour space. With DCI-P3, you can enjoy richer, more lifelike colours than ever possible on a 1080p Full HD TV.

Factory Calibrated Out-of-the-Box Colour Accuracy
Using special instruments and software, W5700 is tested and adjusted for precise D65 colour temperature, gamma, black level, white level, neutral grey, RGBCMY colour tracking, hue, saturation, brightness and output based on DCI-P3 and Rec. 709. All data from multiple interfaces is compiled for individual factory calibration reports, guaranteeing 100% Rec.709 and DCI-P3 colour accuracy with Delta E<3* to reproduce authentic colours of Hollywood films.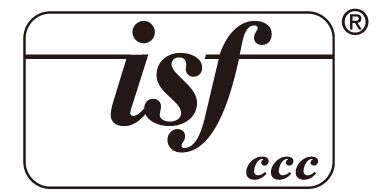 ISFccc® Certified Visual Calibration
With the Imaging Science Foundation's highly reputed ISFccc® calibration built-in, W5700's image and colour performance can be customized for any space, along with pre-set light balance modes for day and night.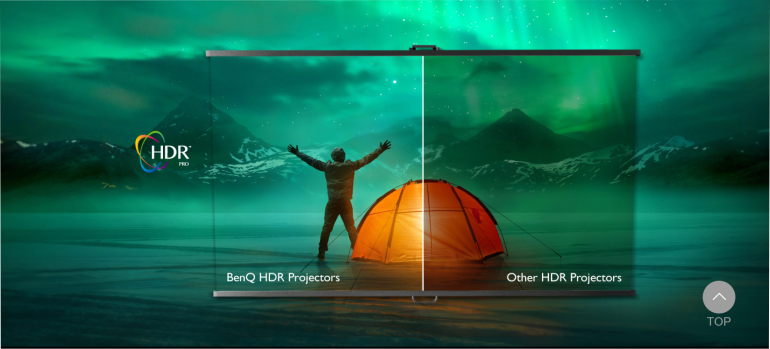 Hyper-Realistic Video Quality with HDR-PROTM
Optimized for projection, BenQ exclusive HDR-PRO technology enhances the 4K HDR viewing experience. Employing enhanced tone mapping, HDR-PRO offers greater contrast range to bring out every detail from 4K Blu-rays as well as streaming content for unparalleled cinematic enjoyment.
Authentic Cinema Reproduction for Dark Rooms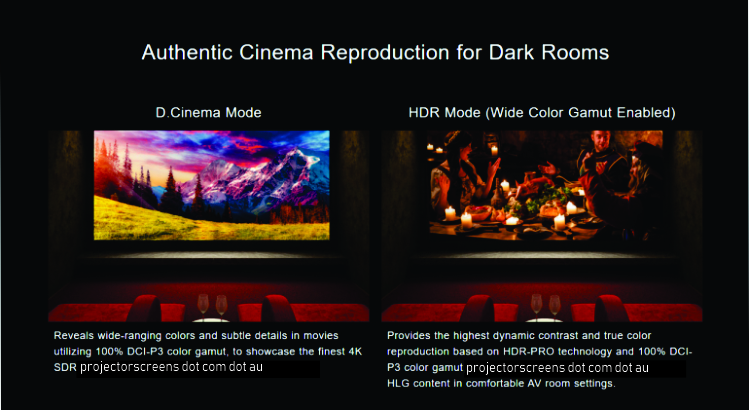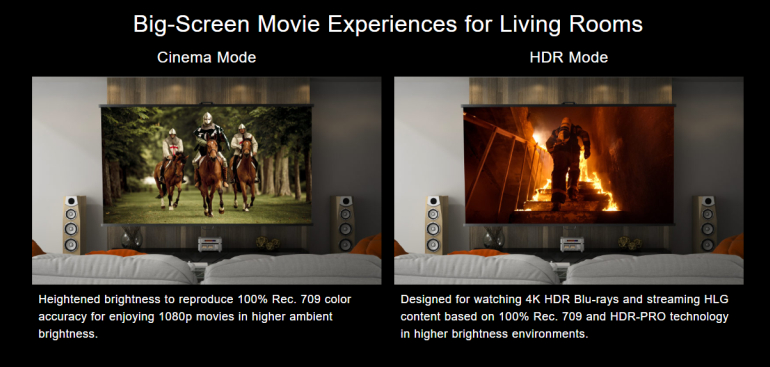 The Art and Craft of True 4K UHD
4K UHD True 8.3 Million Pixel Perfection
Producing 4K UHD 3840×2160 resolution with 8.3 million distinct pixels for each frame, W5700 utilises the new generation 0.47" single-DMD DLP technology to minimize the projector's sleek, compact profile for modern lifestyles. With four times the resolution of Full HD 1080p, 4K UHD reduces pixel blur for awe-inspiring clarity and crisply defined fine details.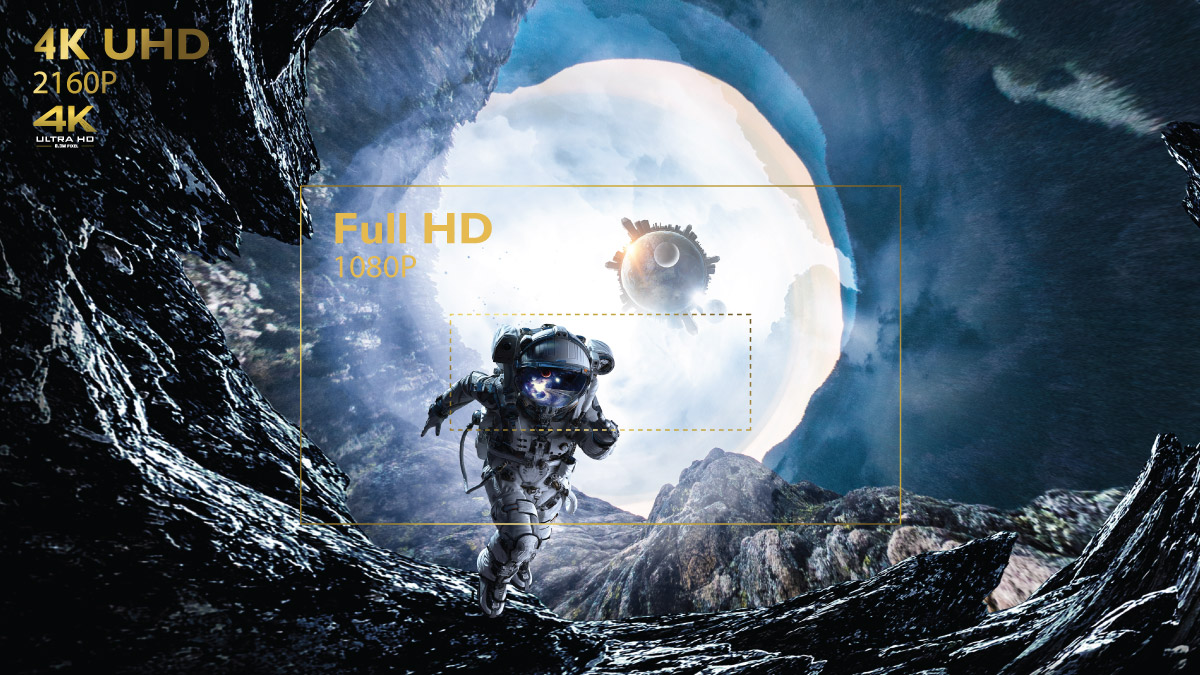 Precision 10-Element 8-Group All Glass 4K-optimised Lens Array
Super-high resolution 10-element lens array is structured into eight groups with metal barrel and cell framework, far outshining 1080p projector technology with greater light penetration for long-lasting 4K intensity with heart-stopping colour performance, clarity, and sharpness across the entire screen.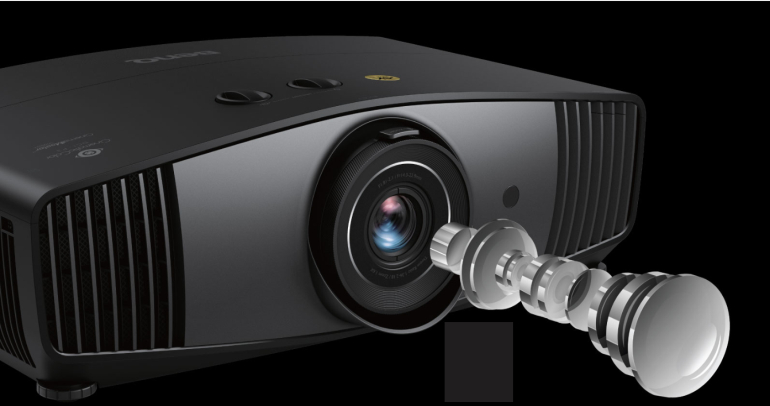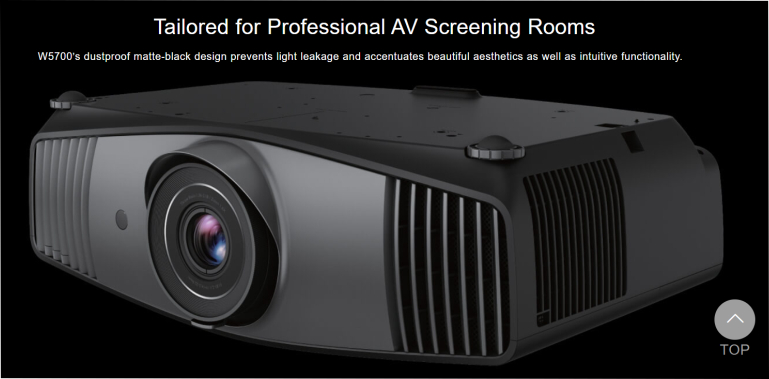 Projection System
Projection System: DLP
DMD size: 0.47″
Marketing
Product Features: 4K, CinematicColor DCI-P3 (100%), Rec.709 (100%), HDR Pro, HDR10, HLG, 3D, RGBRGB, 1.6x zoom, H/V Lens Shift, CinemaMaster V+, CinemaMaster A+, ISF
Display
Native Resolution: 4K UHD (3840×2160)
Native Aspect Ratio: 16:9
Brightness (ANSI lumens): 1800
Contrast Ratio (FOFO): 100000:1
Selectable Aspect Ratio: 16:9, 4:3, Auto
Display Colour: 30-bit (1.07 billion colours)
Light Source: Lamp
Light Source Wattage: 240W
Light Source Life
Normal 4000 hrs
ECO 10000 hrs
SmartEco 10000 hrs
Optical
Throw Ratio: 1.36 ~ 2.18
Zoom Ratio: 1.6x
Lens: F/# = 1.81 – 2.1, f = 14.3 – 22.9 mm
Projection Offset (Full-Height): 100%
Keystone Adjustment: 1D, Vertical ± 40 degrees
Lens Shift Vertical: ± 60%
Lens Shift Horizontal: ± 23%
ANSI Uniformity (Min.): -35%
Clear Image Size: 60″~200″
Image Size: 60″~300″
Picture
Picture Modes: 3D, Bright, Cinema (Rec.709), D. Cinema, HDR, HLG, ISF Day, ISF Night, Silence, User, Vivid TV
Coluor Wheel Segment (Lamp): 6 segment (RGBRGB)
Colour Wheel Speed: 100Hz, 120Hz, 3D (120Hz), 96Hz
Rec. 709 Coverage: 100%
DCI-P3 Coverage: 100%
Compatibility
Input Lag: 51 ms (1080p@60Hz)
Resolution Support: VGA (640 x 480) to 4K UHD (3840 x 2160)
Horizontal Frequency: 15K~135KHz
Vertical Scan Rate: 23~120Hz
HDTV Compatibility: 1080i, 1080p, 2160p, 480i, 480p, 576i, 576p, 720p
3D Compatibility: Frame Packing, Side by Side, Top Bottom
I/O Interface
HDMI in: (x2), HDMI-1 (2.0b/HDCP2.2), HDMI-2 (2.0b/HDCP2.2)
LAN (RJ45): (x1)
USB Type A: USB Type A-1 (2.0/Power Supply1.5A), USB Type A-1 (3.0/Power Supply1.0A/Reader), USB Type A-2 (2.0/Power Supply1.5A/Reader), USB Type A-3 (2.0/Power Supply2.5A)
USB Type Mini B: USB Type Mini B-1(service)
RS232 in (DB-9pin): (x1)
Wired Remote in (3.5mm Mini Jack): (x1)
DC 12V Trigger (3.5mm Jack): (x1)
Audio
Speaker: No Speaker
Audio out (3.5mm Mini Jack): 1
Environment
Power Supply: AC 100 to 240 V, 50/60 Hz
Typical Power Consumption (110V): 330W
Stand-by Power Consumption: <0.5W
Network Stand-by Power Consumption: <2W
Acoustic Noise (Typ./Eco.)(dB): 32/26
Operating Temperature: 0~40℃
Accessories
Wireless USB dongle: (Optional)
Remote Control w/ Battery: RCV016
Power Cord (by region): x1 (3.0M)
User Manual CD: 1 (27L)
3D Glasses: (Optional), DGD5
Installation Guide: 1 (8L)
Warranty Card (by region): Yes
Lens cover: Yes
Universal Ceiling Mount: Yes, CMG3
OSD
OSD Language: 9L
Launcher: Smart Home
Dimension & Weight
Dimensions (WxHxD) (mm): 349 x 168 x 492
Net Weight (kg): 6.5kg
*** Default picture mode is Cinema (Rec. 709)
**** When ISF is enabled, default picture mode is ISF Night.